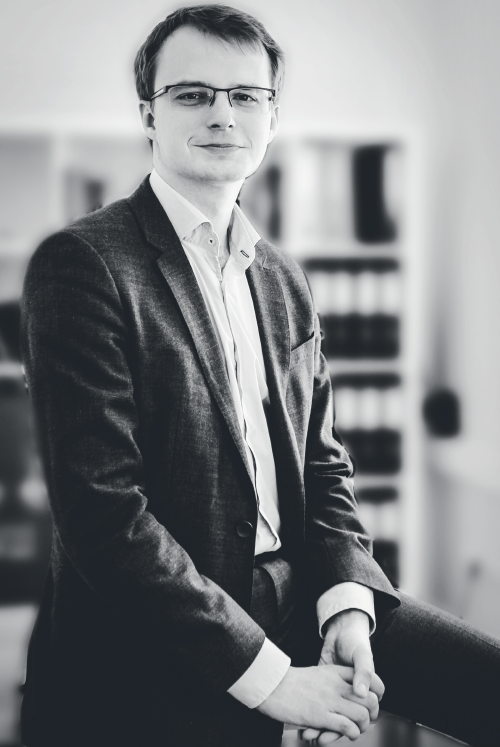 +7 495 290-30-14

yagelnitskiy@pchlaw.ru
vCard

Alexander Yagelnitskiy
Of Counsel
Alexander is of counsel at Petrol Chilikov law firm. He has over 10 years of experience in advising clients on various matters of Russian private law and appearing in Russian courts and in arbitration. His exceptional academic background enables the team to find creative solutions for the most complicated and law shifting cases.
Prior to joining Petrol Chilikov, Alexander was a head of legal at the company supervising reconstruction of the famous Hotel Moscow and earlier a leading lawyer at a major Russian telecommunications company.
Alexander is regularly invited to opine and act as a Russian law expert in Russian and overseas litigations and arbitrations. As an academic, he is invited to join working groups assisting drafting binding directions of Supreme Court of the Russian Federation based on analysis of case law.
Alexander holds a PhD in private law from Lomonosov Moscow State University, where he is currently an Associate Professor at the Department of Private Law. He is also an Associate Professor at the Russian School of Private Law and a lecturer at the Moscow School of Social and Economic Sciences. He speaks regularly on private law, including foundations of private law, property law, law of obligations, damages and specifically tort law and law of succession. Alexander is a member and Russian representative at the World Tort Law Society (WTLS).
Alexander is a Russian advocate, practicing as a member of the Moscow Collegium of Advocates "Lex International".
Recent and representative experience
Acting for the heirs of a wealthy Russian individual and appearance in a multi-million dollar dispute with business partners of the deceased, in multiple proceedings, over a number of substantial Russian businesses
Acting for a major producer of equipment for oil and gas industry in damages dispute arising from alleged violation of IP rights; the decisions of the lower courts were quashed by the Supreme Commercial Court. The case was widely reported
Acting for a minority shareholder in a series of corporate disputes related to a business holding a considerable pool of Moscow properties; successful challenging transfer of a controlling stake in violation of the client's pre-emptive right and challenging certain transactions detrimental to the company's business
Structuring and negotiating a series of transactions for a famous Russian fashion designer resulting in division of valuable business properties in central Moscow between business partners, including SPAs, loans and mortgages
Acting for a foreign investor - a leading Russian visual communications company - in a complicated contractual dispute (unlawful termination of a multi-million dollar contract) against Russian authorities before the International Commercial Arbitration Court; subsequent successful confronting annulment the award at the state courts. The state courts decisions were widely reported
Leading largescale corporate work in the course of the construction and sale of the Hotel Moskva next to Red Square (its business premises, apartments and shopping premises), including structuring issuance of a substantial credit facility and related security instruments, sales of premises, restructuring business
Structuring and negotiating a series of transactions for a real estate investor resulting in the division of valuable office buildings between business partners, including SPAs in multiple jurisdictions (Russia, BVI, Saint Vincent and the Grenadines), security instruments, payments with the letters of credit and escrow accounts
Issuing Russian law expert opinion on validity of assignment, submitted in Russian proceedings involving the largest Russian telecommunication company, submitted with an appellate Russian court and resulted in quashing the lower court judgment
Issuing Russian law expert opinion on liability of parent company for obligations of a subsidiary, in damages dispute in connection with alleged hostile business takeover, submitted in foreign proceedings
Issuing a Russian law expert opinion on jurisdiction of the Russian courts over a debt recovery dispute involving a BVI company
Publications
A New interpretation of rules on recovery of tax debt and a liability of controlling persons: qui prodest? // Zakon. 2017. № 12
Deviation from principle of full compensation of damages caused by the state // Zakon. 2017. No 10
Rethinking contributory negligence. A comment on the decision of the Judicial Chamber on commercial disputes of the Supreme Court of the Russian Federation dates 15.02.2017 № 305-ЭС16-14064 // Bulletin of Commercial Justice. 2017. No 3
Interview "There is no right to well being", with A.A. Yagelnitskiy // Arbitrazhnaya Praktika. 2017. No 10
Russia by A. Yagelnitskiy, O. Petrol – in: Product Liability: Fundamental Questions in a Comparative Perspective / Ed. by H. Koziol, M. Green, M. Lunney, K. Oliphant, Y. Lixin. De Gruyter, 2017
Revisiting State Liability for Administrative Proceedings. Commentary to Supreme Court Judicial Chamber for Commercial Disputes dated 19/11/2015 # 305-ЭС15-8490 // Bulletin of Commercial Justice. 2016. № 1 (as a co-author with O.D. Petrol)
Damages Claims: How the Court's Approach to Causation Changes // Arbitrazhnaya Praktika. 2015. № 1 (as a co-author with O.D. Petrol)
Contracting out of the Right to Challenge an Arbitral Award // New horizons of international commercial arbitration. Issue 2 / Ed. by A.V. Asoskov, A.I. Muranov, R.M. Khodykin. Moscow, 2014 (as a co-author with O.D. Petrol)
Temporal conflict of arbitration rules // New horizons of international commercial arbitration. Issue 1 / Ed. by A.V. Asoskov, N.G. Vilkova, R.M. Khodykin. Moscow, 2013 (as a co-author with O.D. Petrol)
A new shareholder is unhappy with an earlier shareholders' decision. Is he is entitled to invalidate it? // Arbitrazhnaya Praktika. 2014. No 6
Transfer of a claim to rescind a transaction of a company by a shareholder who acquired her shares subsequent to completion of the transaction: Analysis of effects of a rule elected by the Russian law // Legislation. 2011. № 5
Transfer of a claim to rescind a transaction of a company by a shareholder who acquired her shares subsequent to completion of the transaction: Approaches of Russian and foreign law // Legislation. 2011. № 3
Original and derivative acquisition of ownership in the Draft law on amendments to Civil Code of Russian Federation // Bulletin of MSU. Series 11: Law. 2011. № 3
Compensation for Injury to Business Reputation of Legal Persons under Russian Law: A Comparison to the Civil Code of Austria (ABGB) in Geistlinger/Harrer/Mosler/Rainer, 200 Jahre ABGB – Zitiervorschlag: Ausstrahlungen (Wien 2011) (as a co-author with Dr. Dr. N.V. Kozlova)
The effect of non-fulfillment of the conciliation procedure to the arbitral proceedings: certain issues // Bulletin of ICA. 2010. № 2 (as a co-author with O.D. Petrol)
Hereditary succession in a right to challenge a transaction // Civil Law Review. 2010. № 5
Consequences of a transaction concluded on behalf of the other person without authority: Commentary on Article 183 of the Civil Code of the Russian Federation // Civil Law Review. 2010. № 4
Termination of a contract due to a fundamental change of circumstances // Bulletin of MSU. Series 11: Law. 2010. № 3 (as a co-author with Dr. Dr. N.V. Kozlova)
SPECIALISATIONS
Domestic litigation
Expert Opinions
Transactions
Education and Memberships
Lomonosov Moscow State University
Civil Law Department of the Lomonosov Moscow State University (PhD, Associate Professor)
Russian School of Private Law (LL.M., Associate Professor)
Moscow School of Social and Economic Sciences (Lecturer)
World Tort Law Society (Representative for Russia)
Moscow City Bar
Languages
Russian, English